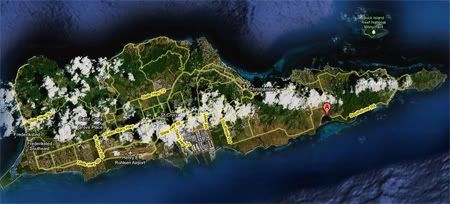 Map of St. Croix, Virgin Islands
Location "A" is Great Pond – click for larger map
Here's another update on Hope, the Whimbrel with the satellite tracker I blogged about in my previous post -
After an exhausting 100 hour, 3,500 mile flight over the open ocean, she has temporarily settled in at Great Pond, a listed Bird Life International Important Bird Area located on St. Croix of the Virgin Islands. She is expected to rest there for a few weeks before making another long journey to the coast of South America, where she will likely spend the winter. It's nice to know that she gets a bit of time to recuperate and feed before completing the last leg of her impressive journey.
A fun side note about Hope is that she was actually spotted and photographed recently by a birder at Great Pond. Lisa Yntema had been following Hope's migration on the Center for Conservation Biology's website and went to Great Pond at the right time! You can read more about this neat accomplishment at Joseph McClains blog with the Center for Conservation Biology:
http://www.wm.edu/news/stories/2009/hope-in-usvi__007.php
Here's the photo Lisa was able to snap of Hope:


Credit: Lisa Yntema